About ContentAced
ContentAced is a content creation and optimization tool that helps you include user-relevant topics in your content and achieve topic completeness. This helps you rank higher in Google and drives more organic traffic to your site.
Over the last few years Google's search algorithm has increased its focus on the semantic relevance of content in determining site rankings. More recently, Google search adopted BERT which is aimed at better understanding the context of user searches and their underlying intent.
About TopicSense
Our TopicSense technology has its foundations in Google's BERT and other Natural Language Processing models, and has been fine-tuned specifically for semantic search of ideas and concepts across extremely large document sets.
With TopicSense, we can determine when two phrases boil down to or relate to the same broader idea or concept, as opposed to simply looking for direct keyword matches. This allows us to easily compare your content with top ranking content in more detailed ways, and tell you exactly what you need to do to establish topic authority.
How ContentAced uses TopicSense
We use TopicSense to analyze top-ranking sites for key ideas, concepts and entities and then apply a ranking algorithm based on semantic relevance to the underlying content to help you understand what to focus on in your content. TopicSense is also used to figure out which questions top-ranking sites answer. These pieces of information together help us clearly direct you towards addressing user search intent.
3 significant benefits that only ContentAced offers
Every term suggested is semantically relevant to the user's search and improves the chances that your content will rank better in Google search
Our term groups enable you to focus on underlying concepts and ideas and transform your content to be comprehensive and well-organized, and achieve topic completeness.
You no longer need to use exact terms a specified number of times rigidly. You can use any terms in any form as long as it fits the context, and matches with your writing style.
All of this means that your content can now be truly unique and at the same time very useful to the end user.
Using Topic Expert
If you are just starting to research a topic you need to write about, our 'TopicExpert' feature will help slash your research time from hours to seconds. Simply enter the keyword of interest, hit 'Create Report' and sit back!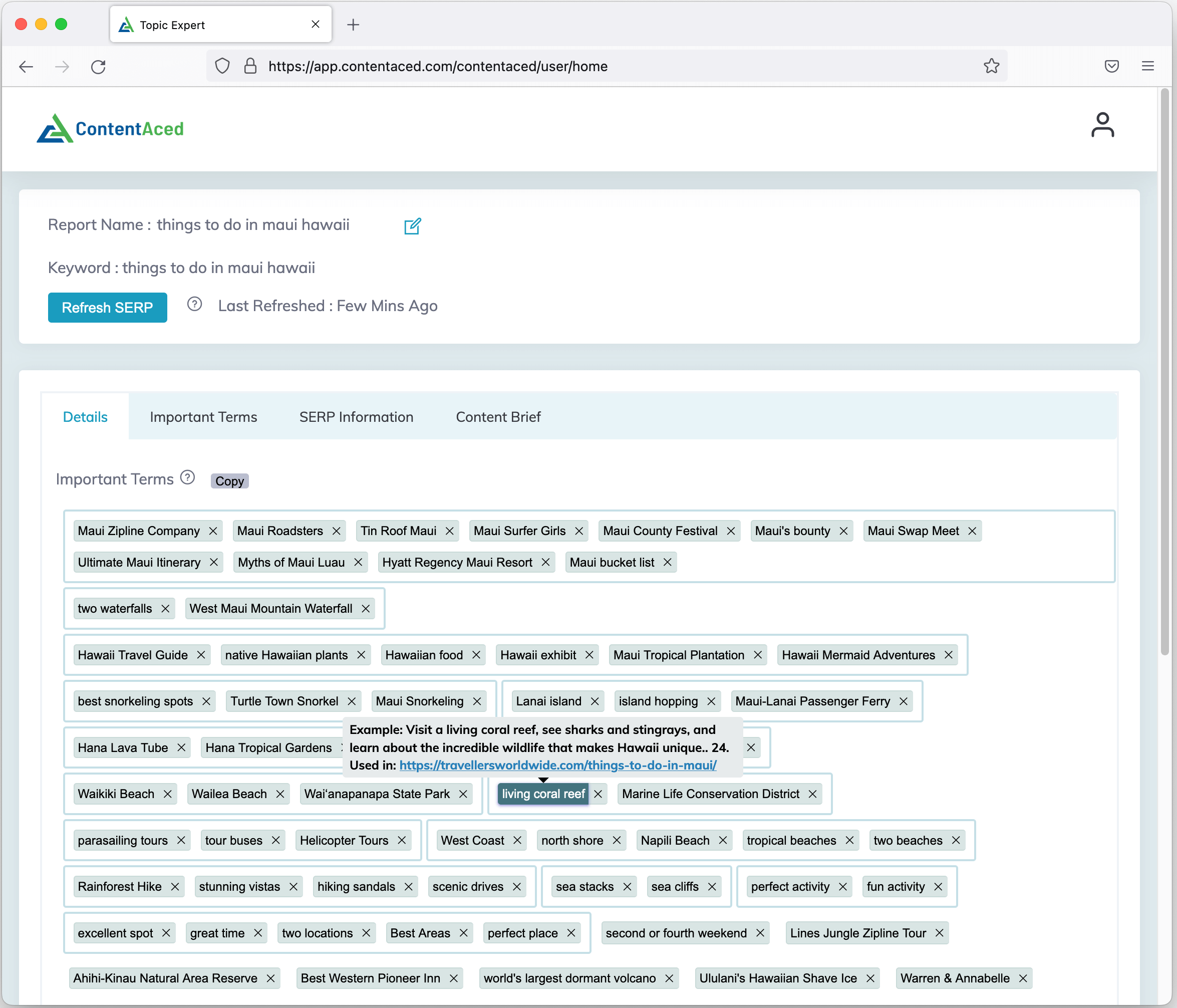 ContentAced will analyze the top Google search results and generate a list of clearly organized semantically related 'term groups', as seen above.
This view gives you instant insight into the important terms that you should include in your content. Semantically related terms are grouped together and this helps you quickly understand what aspects to hit in your content while covering a specific topic.
By using the mouse-over feature, you can instantly gain more information about any specific term as seen.
Optimize your content with Content Optimizer
You can use the ContentOptimizer feature by either providing it a link to your site, or by entering your content directly. The following example shows how you can effortlessly gain valuable insight into your content by using this feature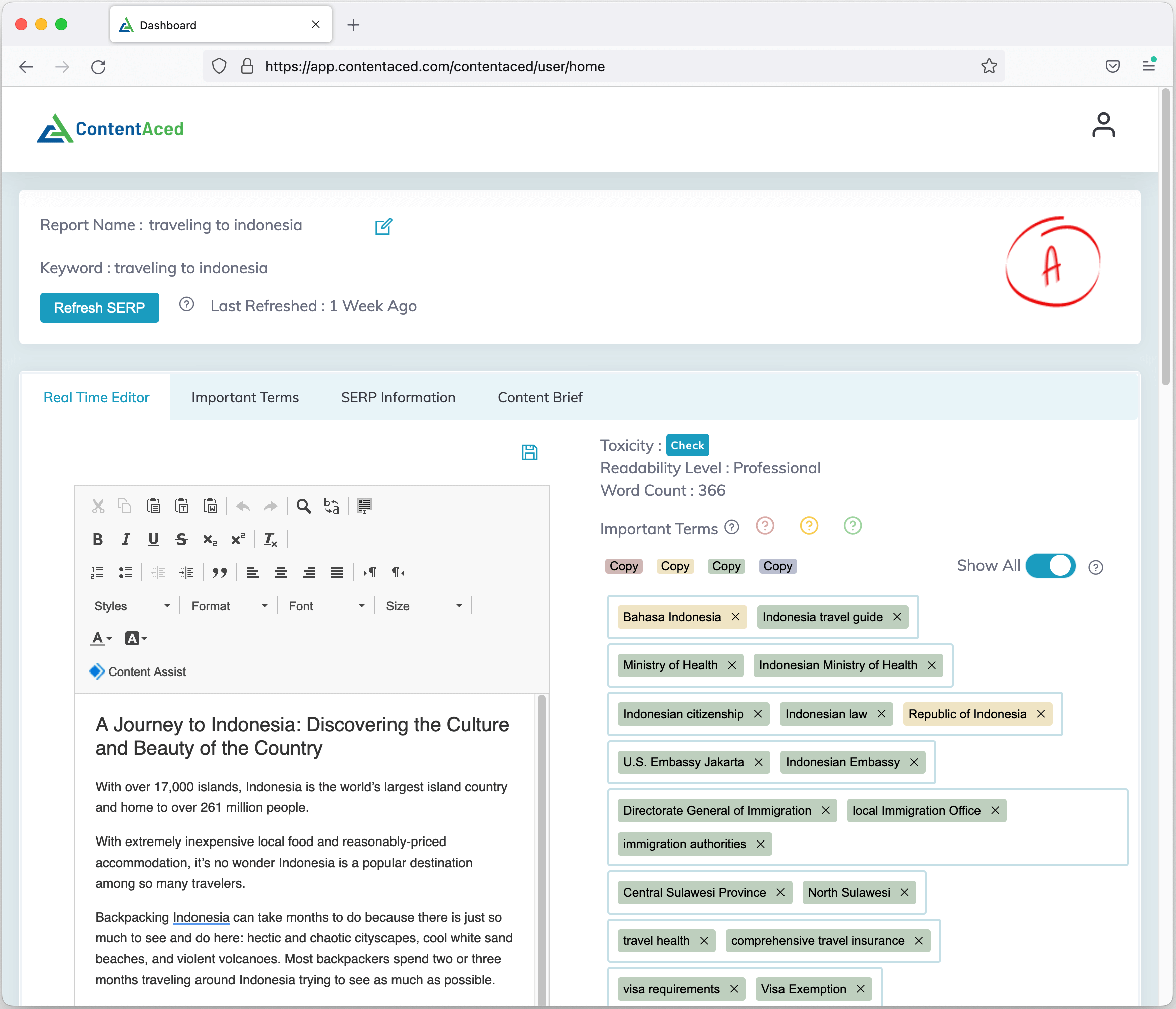 Here we see the results of the analysis. Each of the important terms is shown with a specific color which gives you immediate feedback on whether you missed it completely, have optimized it well, or need a further review.
To use the tool, start with the terms in red and then work your way until you nail that A grade – that's when you know you have truly improved your content to the point where you are ahead of the competition.
Managing your content
ContentAced allow you to safely store and retrieve your work. Our intuitive Reports section makes it easy to store, find and retrieve your work anytime you need.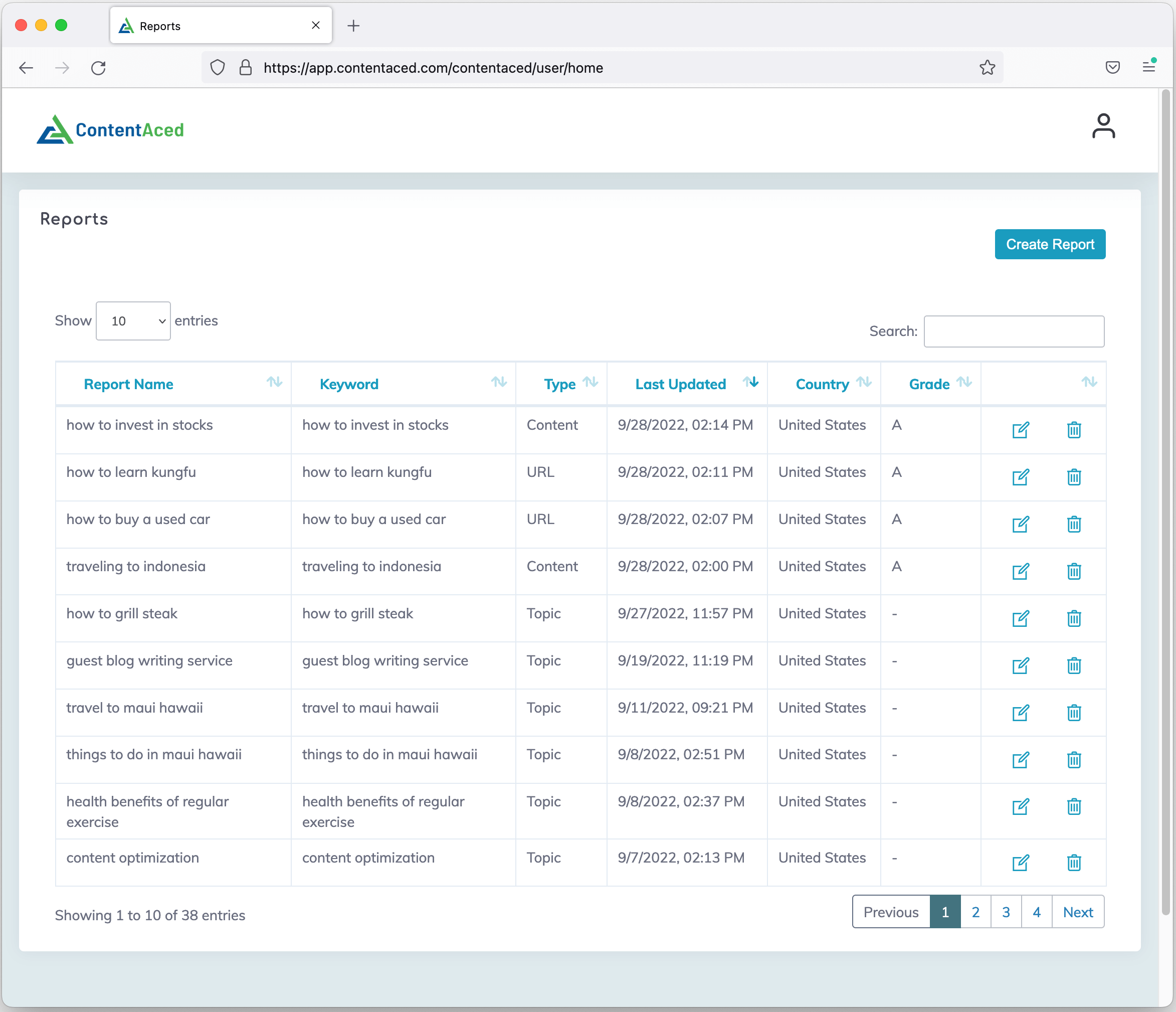 Importantly, any report that you have run in the past can easily be re-run with the latest SERP results at the click of a button, ensuring that you can keep your content relevant all the time.